A responsible value chain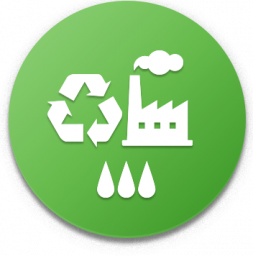 We make continuous efforts to reduce our environmental footprint and improve resource efficiency. The transparency and traceability of our procurement always have priority.
Our corporate responsibility footprint is determined throughout the supply chain – from the cornfields to the consumer. It covers our own operations as well as the entire delivery chain, thus being a shared interest among Olvi, our suppliers and partners. Good supply chain management and procurement practices have a substantial effect on the environment, climate and society. What is most efficient is often also the most ecological.
RESPONSIBILITY FOR THE ENVIRONMENT
Responsibility for the environment is one of the most important themes in the delivery chain.
Environmental responsibility is largely manifested as safety and resource efficiency – the safe and efficient use of raw materials, supplies and energy, as well as recycling and optimisation of transports. We make continuous efforts to reduce our environmental footprint.
Our Group-wide environmental policy and its focus areas – carbon footprint reduction, water consumption, treatment of wastewater and recycling of materials – define the objectives and targets for our environmental responsibility. The achievement of targets is regularly monitored in the Management Group of Olvi plc and the Group-wide teams for production and procurement.
As a result of years of development of environmental footprint issues, Olvi observes the following operating models
The production plant is heated by district heating, and electrical power comes from renewable sources.
The by-products mash and excess yeast are delivered to cattle farms for use as animal feed.
Raw materials and chemicals are transported to the brewery in tanks and recyclable packages.
Packaging waste from production, as well as hazardous waste, is sorted at our own waste processing centre and delivered for recycling.
Olvi's products are packaged exclusively in refillable or recyclable packages. Olvi belongs to the national bottle recycling scheme.
Waste water is routed to the process of the local municipal waste water treatment plant through an equalising tank that reduces biological oxygen-consuming load and a bio-filter.
Identified gaseous emissions from our operations:
Goods transports generate flue gas emissions.
The fermentation process at the brewery releases carbon dioxide.
The wort-boiling process releases a harmless bread-like sweet smell to the vicinity.
Olvi has complied with a voluntary energy efficiency agreement system for the food industry since 2003. The agreement is based on the EU Energy Services Directive. The system is valid until the end of 2026 and replaces the energy-saving agreement that expired at the end of 2016. The system involves agreement on a framework for continuous and systematic improvements in energy efficiency. This shows that Olvi plc is a serious player in our society's joint effort against climate change.
The most important environmental actions at Olvi in 2018 include:
New energy plant is introduced into use, and this will bring a changeover to Finnish renewable fuel instead of fossil fuels.
Specific energy consumption is reduced by taking selected measures called for by a completed energy review.
Wastewater load is reduced through a pre-treatment investment that has already been completed.
Environmental indicators such as waste water, landfill waste, consumption of electrical power, steam and heat, are a part of the plant's performance card and are actively monitored. The target is positive development, that is, a reduction in figures per measured unit.
Recycling system for beverage containers
Finns are ranked at the top tier worldwide when it comes to recycling beverage containers. Deposit containers remain in the cycle, away from landfills, because all parties involved in the system chain do an outstanding job: the beverage industry, trade and, above all, Finnish consumers, whose rate of returning beverage containers to recycling improves year after year.
PALPA is responsible for the reuse of materials, and administers and develops the recycling system for beverage containers in Finland
What if everything were to work as effectively as the beverage container recycling system in Finland?
Finnish Packaging Recycling RINKI Ltd
Olvi participates in a reuse system thanks to which only some 3% of packaging in Finland ends up in landfills. Read everything about packaging and get more information: Finnish Packaging Recycling RINKI Ltd
RESPONSIBLE PROCUREMENT
A responsible delivery chain means the choice of responsible suppliers. It also means transparency and traceability of our procurements. It is important to us that our raw materials, packaging materials and the products made from them fulfil the requirements and expectations of customers and consumers.
The Group-wide procurement principles and operating models are defined in our procurement policy. We purchase our raw materials from approved suppliers, and the quality of each delivery is verified. We gladly prefer local suppliers and also co-operate with various stakeholders to develop corporate responsibility within our sector of industry.