Competence development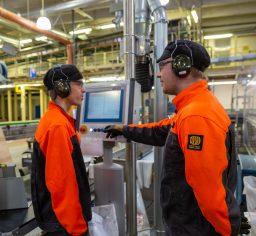 We want to support and to commit our employees to perform as effectively as possible in their work. We take care of our employees' expertise and development by organizing company-level and Group-level training and developing operations.
We monitor our employees' skills and development needs through annual development reviews. Training and development are based on our business targets and job requirements. Plans on training events are prepared each year as part of the annual plan.
Olvi provides its new employees with an extensive induction, relying on both a traditional face-to-face induction and modern methods. Seasonal workers are asked to provide feedback on the success of introductory training and targets for development, and this is processed in a centralised manner.
Competence Development and Training Regularly
We develop our employees' competence systematically over the long term. We encourage our employees to foster multiple skills and develop their skills actively. We want to stay on top of things and look for new operating models and develop tasks with modern methods.
In 2022, Olvi employees used their working hours regularly for training. Since 2018, the Olvi Group has had a common online learning environment. Since 2021, we have been using a new online learning environment that enables uniform training provision throughout the Group. Online training is available on sustainability, occupational safety and data protection, for example. In addition to online training, we offer our employees various trainings, depending on their position and tasks.
In 2023, we will continue to develop the monitoring of training by improving our training record practices to ensure appropriate monitoring. We are also focusing on using the opportunities offered by digitalisation for personal competence and job development.